Exhibition Overview
OVERVIEW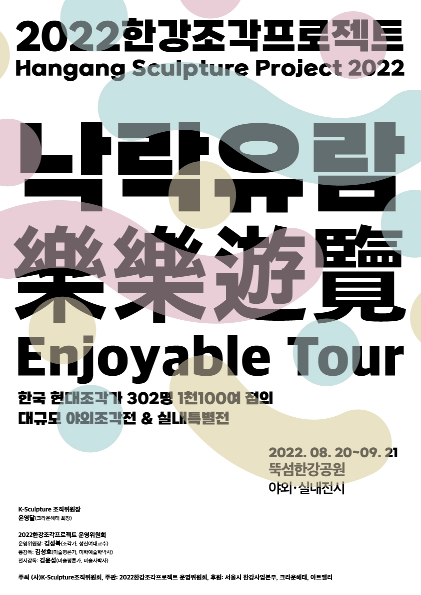 Title
Hangang Sculpture Project 2022
Theme
Enjoyable Tour (樂樂遊覽)
Even Period
September 3rd (Sat) – September 6th (Tues) / 33 days
Exhibition Venue
Ttukseom Hangang Park, Banpo Hangang Park, Yeouido Hangang Park
Entering Works
Approximately 1000 pieces including about 300 pieces for the outdoor exhibition and about 700 pieces for the indoor exhibition
The President of K-Sculpture
Organization Committee
Yoon Young-dal (CEO of Crown Haitai)
Hangang Sculpture Project 2022
Organization Committee
The President of the Operating Committee
Kim Sung Bok (Sculptor, Professor at Sungshin Women's University)
Executive Director
Kim Sung Ho (Art Critic, Ph.D. in Aesthetics and Science of Art)
Exhibition Director
Kim Yoon Sub (Art Critic, Ph.D. in Fine Arts)
To inherit and develop its first event in 2021 (Hangang Sculpture Project 2021_Heung (excitement): A Stroll for an Appreciation for Arts, Deong Deokung~), Hangang Sculpture Project 2022 is determined to establish itself as the most prominent sculpture exhibition in South Korea.

Adopting the slogan of "Gigantic Sculpture Gallery without a Roof", Hangang Sculpture Project 2022 will be held for the next three years to promote and support the global expansion of Korean sculpture.

It will attract domestic and international artists and spectators who are visiting to celebrate KIAF ART SEOUL 2022, one of the largest art fairs in the world co-hosted by the UK's Frieze Art Fair and KIAF.
- KIAF SEOUL(September 3rd – 6th 2022, COEX, Seoul) + KIAF PLUS(September 2nd-5th 2022, SETEC, Seoul)

It will provide an opportunity for the visitors to enjoy the culture and help to soothe people's weary minds from COVID-19.
K-Sculpture Co. Organization Committee
Hangang Sculpture Project 2022 Organization Committee
Han River Business Headquarters in Seoul

Crown Haitai Art Valley